The Guagliardo guitars are manufactured with great care scrupulously following ancient traditions. Each inlay is strictly made by hand and is unique. For the finish French shellac polish is used and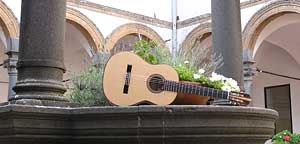 carefully applied according to ancient knowledge. The instruments are built in a climate-controlled environment and the woods used have been allowed to season for almost ten years. They have been carefully selected from among the best woods available. They are: red spruce and cedar for the soundboard; rio rosewood , indian rosewood and maple for the back and sides; mahogany and cedar for the neck; ebony for the fingerboard; padouk, rosewood and maple for the rosette and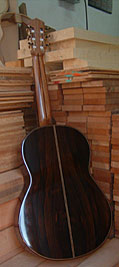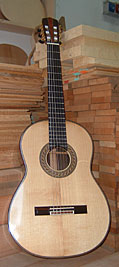 all the other inlays; and various briarwoods for the frontal insert of the V.
The warmth and delicacy of the matching colours and the ornaments resembling the decorations of ancient palaces give the Guagliardo a typically Mediterranean aesthetic appearance.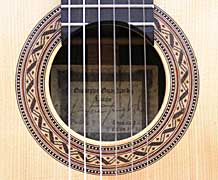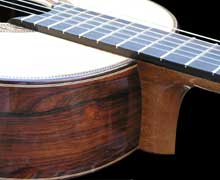 All models have a warm, round, rich and clear sound with incredible sustain. In a refined and elegant way they keep a perfect equilibrium between basses and trebles and the richness of tone is well-balanced all over the fingerboard. All models feature excellent projection and response. The soft and comfortable fingerboard makes you feel at ease the moment you strike the first note.