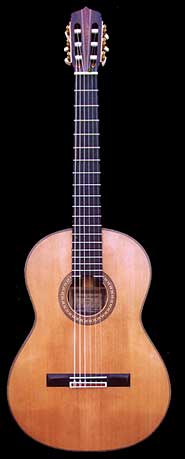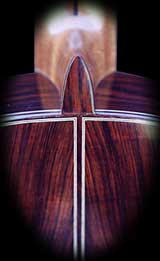 Soundboard: cedar
Back and sides: brazilian/indian rosewood
Fingerboard: ebony
Neck: cedar
Bridge: brazilian rosewood
Saddle: bone
Scale length: 648mm
Width of fingerboard: nut 52 mm; 12th fret 62 mm
Thickness of neck: 1th fret 21 mm; 9th fret 24 mm
Body depth: top 90 mm; bottom 98 mm
Distance between strings: capo 42 mm; bridge 59 mm
The finish: French shellac polish
Weight: 1,480 kg

The most surprising characteristic of this instrument is doubtlessly the ability of keeping sounds for a long time in every register; in this respect it can compete with the best spruce guitars.
It has a brilliantly dynamic sound range extending in a natural way to forte, but is also sufficiently clear in the pianissimo range.
This instrument proves all prejudices wrong that claim cedar guitars lack expressiveness. It is very pure and transmits a great feeling of clearness.
Its quick response and even balance are excellent.
This guitar is famous for its crystal-clear and quick sound as well as its great volume. Its tone is smooth and flowing and exceptionally expressive.